This Facial treatments help brighten your complexion and attain a healthy glow.
VITAMIN SEA RADIANCE FACIAL
This refreshing facial delivers a radiant all-over glow.
This special enzyme treatment will make your skin look and feel amazing.
The Mayan word meaning "healing energy of the sun" Where mind, body and soul become one through the our expert healing hands will help you restore and rejuvenate through personal care treatment such as massage, body rituals and facials with best cosmetic and aromatherapy products that enchase the well-being of your mind body and spirt .Our services are 100 % organic and vegan from the most precious Ocean, Sun, Earth and Atmosphere. Mayan Rituals Spa is a Modern Studio located in Bellaire by Maribel D . Who offers a wide variety services to your unique needs She has 10 year of experience as a beauty therapist and as Licensed Massage Therapist a deep knowledge of different massage techniques and Organic Beauty products as the safest and clean from all kinds of skins, In addition She is very passionate in botanical and holistic healing .her mission is the restore the balance of your body , mind and soul through the art of touch.
Surrender to total relaxation and leave everything else behind
60- minutes – $115
90 – minutes -$145
120- minutes. -$195
Mayan Healing Massage Volcanic Stone
One of our most popular Customize massage treatments……
Our deep tissue muscle massage targets the rood of muscle aches……
A combination of techniques that relive stress as a deep tissue……
Our Special massage with firm pressure for effective results ……
Much more than just a massage……
Traditional Mayan Massage
Is a therapy of energy flow……
Mom Pampering Prenatal Massage
Mother's need to be extra hydrated at all times……
Relax More .Spend Less .We provide a Variety of spa treatment packages so there's something to suit everyone
The Remedy Package
Buy 12hrs of 60- Minutes Massage
$95/per hour session
Treating you for More Comfort
It is a Holistic deeply relaxing ritual that will leave you completely revitalized. Thanks to our unique combination of pure and organic oils. Gives a sense of healing and serenity Let your sense explore our selection of delicate aroma Chamomile, Rosemary, Lavender, Lime, Ancient medicine and modern therapies are combine in natural balance to leave you feeling blissfully relaxed . Every one of our massages begins through a consultation with your Licensed Massage Therapist and the incorporates elements of Heated massage tables Your choice of organic aromatherapy oil or organic body butter and steamed hot towels
Sandy Train
I made an appointment at Mayan Rituals Spa for a Hot Stone Massage with Maribel. I'm so glad I found her as she is truly the best! She got rid of all my knots and I always feel so refreshed and energized after the massage. She knows exactly where to focus on. I have referred several of my friends and family to her. I always look forward to all my appointments. Thank you Maribel!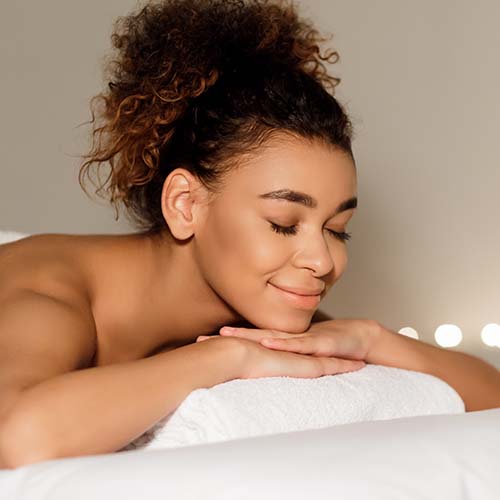 Nayeli Pineda
Great 60 min massage by Maribel. I really appreciated her patience on helping me relieve the knots in my upper back. The shopping center also great parking options so it makes it easy to make it to the appointment on time
Nora Anderson
The spa is very relaxing. I received a massage. Attendant was courteous, professional, and thorough. I would definitely go back and recommend this spa.
Joanna Friesen
Great massage! Was able to work out problem areas, would definitely go back
Helping you to look Great